Why settle for a standard production boat when you can build a custom luxury yacht at the same cost or less?
Customization is expensive, and a luxury exclusively reserved for megayachts. This is the popular belief and perception. Customization is indeed an expensive option, if at all possible, at all successful production boat manufacturers. Customization of even a few boats will greatly compromise and disrupt the assembly line efficiency of standard production. For this reason, production boat manufacturers do not allow any meaningful customization. This leaves the owner with limited options and to accept a standard boat like all other owners except for some choices in soft furnishings.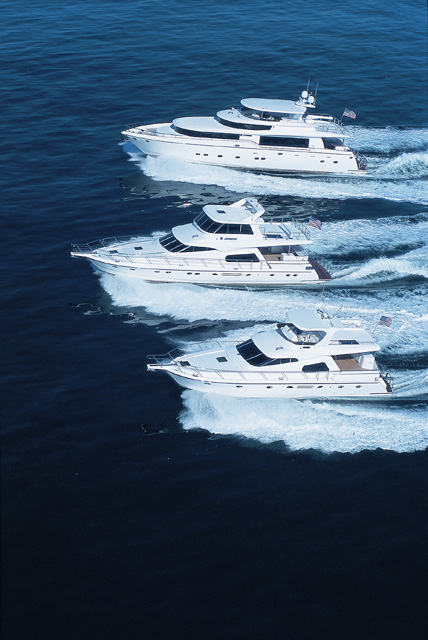 At Lotus, we let you decide on the layout, the number of staterooms and the specific application of the boat. Consequently, every boat we build is unique, reflecting on the individual taste and preference of the owner. And, yes, our luxury motor yachts hardly cost more than the standard production boats. You have a choice—design your own exclusive luxury motor yacht! Check out our range of custom luxury motor yachts from 58 ft to 87 ft in the following pages. Then tell us what we could do for you. Do you need a larger tankage for longer range destinations, to convert a stateroom into an onboard office, a diving-oriented sports motoryacht or perhaps a dream layout you have always wanted? For the past 17 years, we have been listening — and building the ideal boat for those who have told us so! We would be most happy to do the same for you.
One more thing to bear in mind as you browse through the following pages is our philosophy of incorporating almost all conceivable options, not least of which are adequate onboard power and air-conditioning systems. Consequently, you are left with very few options to trouble yourself with. This is significant as options can add up substantially to the cost of your boat at a typical standard boat production yard! Enjoy browsing!